List of PC Threats Detected by Best Spyware Scanner™
SuspiciousFile Description:
Suspicious file is also called suspect file, it is a file that does not indicate the aim specifically, and works wantonly on PC. A suspect file can be Trojan, spyware, adware, virus. Sometimes, a suspicious file may contain some malicious codes or virus codes which will bring potential risk to your PC. If you are not sure whether the suspect .exe file is virus or not, whether it could do some damages to your PC or not, do not open it directly. And what you need to do is downloading an anti-virus and anti-spyware program to have clarity report. Submit the suspect file to our security lab for deeper analyzing if you think you have.
Is your PC infected by SuspiciousFile or any other malicious threats? How to get rid of them to secure your PC? Please free download Best Spyware Scanner now to detect and remove SuspiciousFile or other threats safely and immediately.

Click on the malicious threats below to view detailed diagnosis and removal instruction.
Browse by
Category: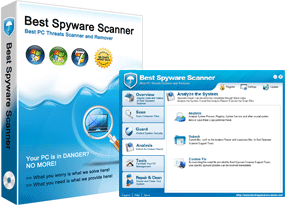 Download Free Best Spyware Scanner
Click to register Best Spyware Scanner!